According to Placer County's Short Term Rental Ordinance, all STR owners must SELF-CERTIFY every year acknowledging that their rentals comply with all fire and life safety requirements.

The ordinance also requires STR owners to allow local fire departments to inspect their property once every three years.
The Northstar Fire Department will reach out to property owners over the next three years to schedule and perform inspections.
Below is a informational inspection document and a brochure specifically for STRs located in Northstar.

Northstar Fire STR Fire Safety Inspection Information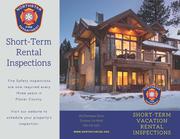 One other important note regarding STRs and open burning. All outdoor solid fuel burning is banned year round by Placer County for STRs. This includes charcoal BBQs, firewood pits, etc.
If you have additional questions, please contact Jason Gibeaut, Division Chief