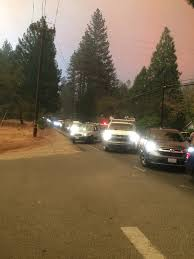 How You May be Notified or Alerted of An Emergency or Evacuation
Depending on the emergency and the conditions, public safety officials may utilize a variety of ways to alert you that it is time to evacuate. Below is information on the local alerting systems that you need to be aware of for an evacuation. 
Placer Alert—The Placer County Sheriff's Department and other public safety officials will use this wireless emergency alerting service. This service allows you to opt-in to receive notifications via phone calls, text messaging and email. You can choose to receive notifications about events that may affect your home, workplace, family's schools and more. Administrators will send notifications regarding severe weather, flooding, gas leaks, police activity and more. Most significantly, this system will be used to notify you about imminent threats to health and safety as well as evacuation orders. For more information or to sign-up for this notification service, go to: http://www.placer-alert.org/ or Northstar Alert.
NIXLE – Northstar Fire Department is registered with Nixle Connect, a wireless emergency alerting service that allows us to communicate directly with the public via text and e-mail. There are two types of Nixle messages sent by the Northstar Fire Department: Advisory messages and Alerts. Advisory messages are of lower importance and include messages like smoke from distant wildfires, heavy traffic conditions or storm advisories. Advisory messages are sent via e-mail. In contrast, Alert messages are of high importance and include extreme fire weather notices (red flag warnings), immediate threats to the public and evacuation orders. Alert messages are sent via text messages. The Northstar Community Services District is recommending that all property owners and visitors to the community sign up for this free public safety messaging system. In order to sign up to receive instant text messages simply text "Northstar" to 888777. You will be sent back a confirmation message advising that you are registered. To sign up for both text messages and e-mail messages go to Northstar Alert. 
Hi/Low Vehicle Mounted Sirens— Law enforcement, fire department and other public safety officials' vehicles are outfitted with a siren that sounds different than the traditional siren "sounds" most people are familiar with. This unique siren is 2-tone and European-style in nature.  As public safety officials are driving along the streets within the District, we may choose to sound this hi/low siren in an attempt to notify residents that they need to evacuate.  Think: If you hear the hi/low, then it's time to go! Click here to watch a short video on Hi/Lo sirens with examples. Hi/Lo Evacuation Sirens
Reverse 911 – Community members may receive a telephone call to your home phones with a brief message alerting you of an emergency or other unusual incident where there has been a substantial threat to life or property.
Vehicle Public Address— Similar to the use of a vehicle's hi/low siren to notify of evacuation, public safety officials may use their public announcement (PA) systems on their vehicles to announce evacuation orders from their vehicles while driving the streets.
Door to Door Notification—Public Safety Officials may choose to actually knock on an owner's home, commercial business, etc...to notify them that an evacuation is being ordered.
Digital Signs— Public Safety Officials may utilize digital electronic signs or message boards to announce evacuation.  The District has a permanent message board at the front entrance.  Northstar strategically places mobile electronic signs throughout the District, depending on the time of the year.