Community Risk Reduction Chief's Message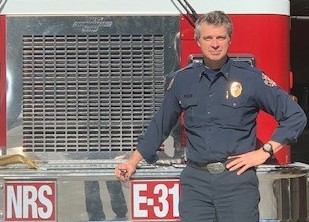 A significant part of the Northstar Fire Department's mission is to reduce the risks to our community. We first identify the risks. Then, we determine "how" we can reduce those risks. This is an ongoing, ever-changing process.
To figure out the best ways to reduce the risks, the fire department relies on a familiar community risk assessment acronym known as the 5 E's. The 5 E's offer a framework which looks at: Education, Engineering, Enforcement, Economic Incentives/Disincentives and Emergency Response. Thus, when a risk has been identified, the fire department establishes and implements various activities and programs to reduce the risk while adhering to one or more of these five disciplines.
As the Community Risk Reduction (CRR) Division Chief, my job is to oversee and actively participate in the FIRE PREVENTION activities and programs that greatly help to reduce the risks to our community. Here are just a few of the critical fire prevention activities and programs we offer:
Defensible Space Inspections and Enforcement

Fuels Management

Annual Inspections of Businesses

Fire & Life Safety Inspections of Short-Term Rentals

Station Tours along with CPR and Fire Extinguisher Training Classes

Plans Review

Code Enforcement
The Fire Prevention webpage has been created to provide you with easy access to information, as well as the ability to submit online reporting and request for specific inspections.
Should you have any questions, please do not hesitate to contact me
Jason Gibeaut
Division Chief/Paramedic
Northstar Fire Department
(530) 562-1212 Ext. 1
jgibeaut@northstarcsd.org